You looking for reliable IP connectivity to connect your server farm or to expand your Autonomous System? Rely on our expansive IP infrastructure at many European locations. We offer IP Transit both as a stand-alone product or in combination with our other portfolio.

KGT new media operates multiple network interconnects to the backbone of Deutsche Telekom AG (AS3320).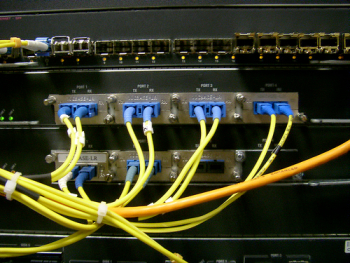 There are Ethernet (10 Mbps), Fast Ethernet (100 Mbps), Gigabit Ethernet (1000 Mbps) and TenGigabit Ethernet (10000 Mbps) as an interface available. The routing is either statically or dynamically as BGP4 session - depending on the customer needs. We can also assist you in applying for and/or delivery of IP address space (PA / PI) and AS numbers.
Locations/PoPs of KGT new media: On-Net
Services included

Routing via BGP4-Session or statically
Ports up to n x 10 Gbps
IP addresses on request (IPv4/IPv6)

Accounting methods

: 95th Percentile or Flatrate
Secondary DNS and Reverse-DNS
7x24x365 Monitoring
Support via 0800 number

High quality

Service Level Agreement
Global IP-Transit
Full IPv4 Routing Table
Full IPv6 Routing Table
Partial IP-Transit
AMS-IX / LINX Prefixes: ~90.000
DE-CIX Prefixes: ~150.000
DTAG Prefixes (AS3320)
Any combination of the individual products is possible.
Set-up fee

On request
Pricelist
Please request an individual quote:
By E-Mail: sales (at) kgtnewmedia.de or by Fon +49 (0)30 214803 - 50
Locations / Point-of-Presence
All "On-Net" locations